Calhoun County Wins
the "John F. Courson"
Excellence in County Engineering Award
From the "Association of County Engineers of Alabama"
Calhoun County was presented with the 2010 John F Courson award for excellence in County Engineering for its process/plant which converts vegetable oil from local establishments into bio-diesel. Additional information on the process and its implementation is below: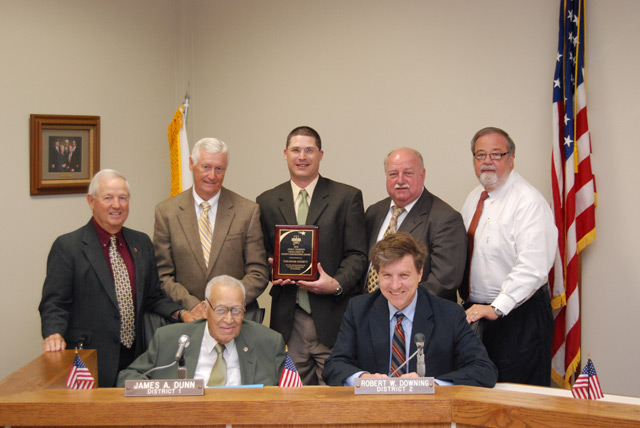 This program was initiated in 2008 as a joint venture between Calhoun County and The Water Works and Sewer Board of the City of Anniston. During this time frame, the cost of petroleum products was increasing at a dramatic pace and as many agencies soon realized, fuel budgets were exhausted well before the fiscal year expired. In search of a supplemental means of providing fuel for the county's fleet, Mr. Markert along with his support staff from the engineering department began to explore alternate fuel sources. During their search, they crossed paths with a representative of the Water Works and Sewer Board of Anniston and soon discovered a unique relationship that would become the start of our "Stove Top to Road Top" program.

As both parties discussed their plights, a true symbiotic agreement was reached. The Water Works and Sewer Board were constantly battling with clogged sewer pipes. They realized the primary problem was excessive cooking oil or grease was being poured down the sanitary sewer lines. In an effort to reduce the clogged lines, they were determined to minimize the amount of waste oil that was carelessly disposed of. Through the assistance of our local Health department and the Water Works and Sewer Board a plan was formed.

The plan was elementary. As the Water Works and Sewer Board isolated repetitive clogged lines, the Health Department could issue a warning about the improper disposal of the used oil and grease. The Health Department would then connect the restaurant with our office. From here, Calhoun County would take a drum and place it at the place of business for the disposal of the used oil. And simply put, that's how the program was born.

Since then the Highway Department has continually processed used vegetable oil into a fuel used by our fleet. With the ratio of used oil to useable bio-diesel hovering just around 1 to 1, this makes the a very efficient process. To date we have produced over 2000 gallons. Those who are interested in learning more are encouraged to talk to Mr. Eric Feemester at our department.