Calhoun County loses a True Leader
James A "Pappy" Dunn
August 14, 2012

Calhoun County Commission
Early this morning Commissioner Dunn passed from our world to the next. Below is "Pappy's" bio. Just the bio, by itself, shows what kind of man Pappy was. But the bio leaves out a very large part of Pappy's life. His ability to talk to people, to carry on a conversation, to teach - without teaching, is a trait very few men have. Pappy will be sorely missed by everyone who works for the County, as well as all those who have had the great pleasure in life to have know him. Our hearts go out to Pappy's family, and although we can not ease their suffering, we wish to thank them for allowing Pappy to spend the last 25 years here with us.
James A "Pappy" Dunn

December ??, 1920
to
August 14, 2012
JAMES A. "PAPPY" DUNN
James A. "Pappy" Dunn was first elected to the Calhoun County Commission in 1987.
After earning a Batchelor of Science degree from Alabama State University, and a Master of Arts graduate degree from Fisk University, he began his career in education as a teacher and coach at Hobson City's Calhoun County Training School.  Some 47 years later, he retired as the school's principal. In 1994 the C. E. Hanna Elementary gym was named in his honor.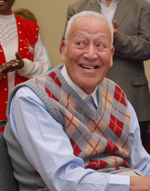 Commissioner Dunn was an Army veteran, and served during World War II in North Africa, Italy and France.
Commissioner Dunn was named The Anniston Star's Citizen of the Year in 1997; in 2005 he received the SCLC Calhoun County Chapter Humanitarian Award; he was inducted into the 2006 Calhoun County Sports Hall of Fame; and in 2008 he received the Association of County Commissions of Alabama Award for Outstanding Contribution to County Government.


Professional affiliations include past president of the Alabama Education Association, Calhoun County Teachers Association, and District V Teachers Association; past president and Board of Directors for the Association of County Commissions of Alabama; National Association of Counties Health Steering Committee; Chairman of the Board for the Anniston-Calhoun County Fort McClellan Joint Powers Authority; Board of Directors for East Alabama Regional Planning Commission and Alabama Association of Regional Councils.
Mr. Dunn has served on the boards of numerous fraternal and civic organizations, including Epsilon Delta Lambda Chapter of Alpha Phi Alpha Fraternity, Inc.; United Cerebral Palsy; Community Action Agency; Salvation Army; American Red Cross; Opportunity Center; and Horace Mann Insurance.
He is a native of Georgia, and is married to the former Barbara Lawson, of Talladega. Their children are Jimmy, Claudette, Bertis and Anrae (deceased), and they have one grandchild.