Waste/Recycle Facts


---
Residential Municipal Solid Waste Nationwide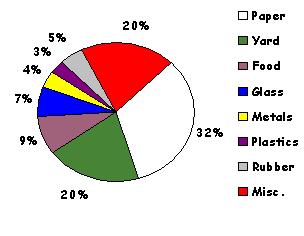 ---
Recycling Facts
With the aluminum we throw away in 3 months, the U.S. could rebuild its entire commercial air fleet.

America throws away over 200 million tires every year.

America throws away 31.6 million tons of yard waste each year (this could be composted).

10 million gallons of oil were spilled in America's worst oil disaster - yet 570 million gallons of oil are improperly disposed of each year.

Recycling a 3-foot stack of newspapers saves one tree.

An average person throws away 5 pounds of trash per day.

The average person has the opportunity to recycle more than 25,000 cans in a lifetime.

Over 2 million tons of used electronics, including computers and televisions, are discarded each year.